10th Suryadatta National Awards ceremony

10th glorious year of the National Awards and 14th Foundation day of Suryadatta

"Be an original version of yourself rather than a second rate version of someone else" - Lt. Gen. A K Singh at Suryadatta National Awards ceremony

Padma Vibhushan Mohan Dharia was the chair person while Lt Gen A K Singh, AVSM, SM, VSM, ADC, GOC in C Southern Command and Adish C Aggarwala, President, International Council of Jurists were the guests of honour.
The Suryadatta National Awards
ceremony took place amidst much fanfare at Tilak Smarak Mandir today. Eminent personalities from different fields were bestowed upon with the prestigious awards at the ceremony.
Lt Gen A K Singh
said that it was an honour for him to be part of this award ceremony. He further elaborated on the challenges that India faces ahead and the need to tackle them. He said, "India is a rising power. The strength that back our country is our culture, entrepreneurial strength, youth power, economical strides and of course our solid military power that backs our country. Even then, a lot remains to be done. Faultlines based on region, religion, etc have to be diminished. If they are tackled, nobody will stop India from rising!"
Shri Mohan Dharia
congratulated Suryadatta as well as the awardees. In his speech, he drew attention to the threat of global warming and said that all of us should work together to fight the menace.
Mr. Adish Aggarwala
said, "People should be aware of their rights is a fact. But at the same time, they should abide by their duties. When we go to nation abroad, we make it a point to follow rules, but when it comes to India, the situation is different. This needs to change!"
Welcome address was given by
Shri Sanjay Chordiya
, Founder and Chairman of Suryadatta. Compering was done by
Sameera Gujar- Joshi, Snehal Chordiya and Kishan Sharma
. Vote of thanks was given by
Prema Mangudkar
. Suryadatta has initiated the awards in the year 2003 in various categories to acknowledge the efforts, achievements and contributions of outstanding individuals in the respective field. Suryadatta believes that such programmes inspire students to cherish these ideas and they visualise such stalwarts as their role models. The award comprises of Trophy & Citation. Suryadatta Lifetime Achievement Awards, Suryadatta National Awards and Suryadatta Young Achievers Awards were the three categories of awards.
The awardees expressed their feelings after receiving their awards.
Shankar Mahadevan
said, "I am completely humbled. I have not received this award but the power of music has been rewarded." He advised the students to set a goal and relentlessly work towards achieving the goal. He dedicated and the song- "Haan, ye rasta hai tera" form the movie Lakshya to all students.
Shilpakar Shri Pramod Kamble
sketched a wonderful portrait of maestro
Shri Hariprasad Chaurasia
, who was also awarded at the ceremony. Shri Chaurasia later praised the sketch and duly complimented him by saying that even though he had received several awards and accolades, this one was quite special! Acharya Nandita Pandey who was awarded for her work in astrology said, "Astrology is not a superstition. It's an established science." She further highlighted the need to believe in oneself and to be affirmative.
Param Poojya Guruji Shri Rishi Prabhakar Guruji
, who was nominated
'Suryaratna'- The Saint of Modern India
spoke on the need of a cleaner India and distributed a booklet which would help Pune, be clean in just 3 days. Shri Pratapsinh Jadhav, awarded for his work in journalism said, "One does not need to be a politician to serve the society. We can serve the society through journalism as well." He further said that being felicitated in Pune is as good as being fecilaitated in the world.
Cosmonaut Wg. Cdr (Retd) Rakesh Sharma
asked the students to go back to their childhood and see what had captured their imagination- not what market demand. He said, "I always wanted to be a pilot. Every career has its ups and downs but you should convince yourself and go ahead." He dedicated his award to the supporting staff during his career as a pilot as he feels that they are the unseen part of the iceberg. Mahabharata- 'Samay' voice over fame- Harish Bhimani thanked Suryadatta and suggested students to work hard to achieve their goal.
Young achievers
Aman Rehman
and
Vrishasen Dabholkar
felt that the award is quite encouraging and will definitely motivate them "The sense of responsibility is definitely higher," said Vrishasen. Shri Ameen Sayani was given the award at his residence as he could not be present due to ill health. Also, Shri Rajendra Singh's award was received by his friend as he could not be present.
Prof. Dr. Sanjay B. Chordiya, Founder President & Chairman, Suryadatta Education Foundation
, believes in the increasing need for developing such an approach amongst the members from all strata of the Society particularly younger generation from remote location, rural and semi urban places, underdeveloped countries, economically downtrodden society, physically handicapped persons etc. and develop their wholesome personality and to make them a good human being while offering them quality education and this was one of the philosophy behind establishing the Suryadatta Institute and Suryadatta cherishes in this philosophy.
Dr Chordiya said, "This year i.e. (2012), we are happy to announce Suryadatta Lifetime Achievement Awards 2012 and Suryadatta National Awards. Another remarkable addition is the Young Achievers' Award to recognize and encourage young talent."
Teachers Day Celebration @ Suryadatta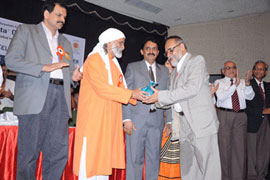 Dr. Sarvapalli Radhakrishnan
, Teacher par excellence, whose birthday, September 5, is commemorated by the Nation as Teachers Day assumes special significance at Suryadatta. Teachers Day is celebrated with great zeal at Suryadatta and its array of Institutes, in a day long meaningful, thought provoking and entertaining programme. In keeping up with the tradition Suryadatta celebrated its Teachers Day at S.M.Joshi hall with active participation of students and faculty from various Institutes of Suryadatta Group ,Pune , The day began with the warm welcome of honorable dignitaries and tributes were paid to noted scholar and former president Sarvapalli Radhakrishnan by the honorable guests and speakers .

Dr. Deepak Shikarpur enlightened the students with the inspiring speech on the topic of implementation of theoretical knowledge practically in corporate. He also stressed upon softskills ,interpersonal skills and behavioral skills to be adopted.
Dr. Samprasad Vinod blends Indian Spiritual Wisdom with the Modern Scientific Knowledge through different activities related to Yoga ,.He enlightened the students by putting his views on How to meditate ,yoga and improve energy and concentration levels to work for 15 to 16 hours a day.

Brahmakumari Sarita Ben, enlightened everyone with her godly speech to find connection with god and find happiness /peace to finally reap the fruits of success. Her speech was further followed by Brahmakumari Sujhata Ben who directed everyone on how to achieve energy levels to work for 16 to 18 hours a day .

Also organized on this occasion was a presentation by "Mumbai Dabbawallas" on the topic focusing on impressive management of their humongous business with the help of Supply chain management and coding system.The day was further followed by teacher's felicitation, each teacher was felicitated by the respective students of various institutes under the umbrella of Suryadatta group Thrill and joy was added to the day because of various cultural events planned and organized by the students from Suryadatta group of institutions ,Pune.
Rakshabandhan Celebration @ Suryadatta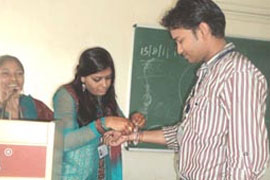 The festival season has begun in Maharashtra with the onset of the month of Shravan. The academic session has also begun in Suryadatta. New batch of students have come. For most of them it might be their first Raksha Bandhan away from their homes. They were all feeling slightly and nostalgic. To build up their frame of mind and to make them feel at home, Suryadatta celebrated Raksha Bandhan in its unique style.

Each girl student tied rakhis to two boys from her batch. Each student enjoyed themselves and were like a big family. The students put up a small cultural program on this occasion.
Independence Day Celebration @ Suryadatta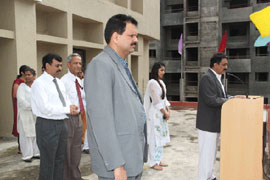 Independence Day is a proud moment for every Indian. Each one of us takes pride in being an Indian. At Suryadatta Independence Day is celebrated with its true spirit and full enthusiasm.

Dr. Deepak Shikarpur graced the occasion as a Chief Guest. Prof. Dr. Sanjay . Chordiya- Founder President & Chairman Suryadatta Education Foundation, Senior directors of the institute, faculty members, Non teaching staff members and large number of students were present for the day.

The Tri color was then hoisted with the National Anthem sung by the students. The Chief guest Dr. Deepak Shikarpur and Founder President and Chairman Prof. Dr Sanjay B Chordiya enlightened the members present. Students also got motivated and shared their feelings of the great moment.

After this the student presented a cultural programme individually and in groups, typically based on the theme of Independence day. The Program culminated with distribution of sweets.